NOTES TOWARDS BECOMING A SPILL
BY SHIKEITH FOR THE 2021 PERFORMA BIENNIAL
QUEENS, NY (EXPERIMENTAL OPERA)
ROLE: CHOREOGRAPHY AND MOVEMENT DIRECTION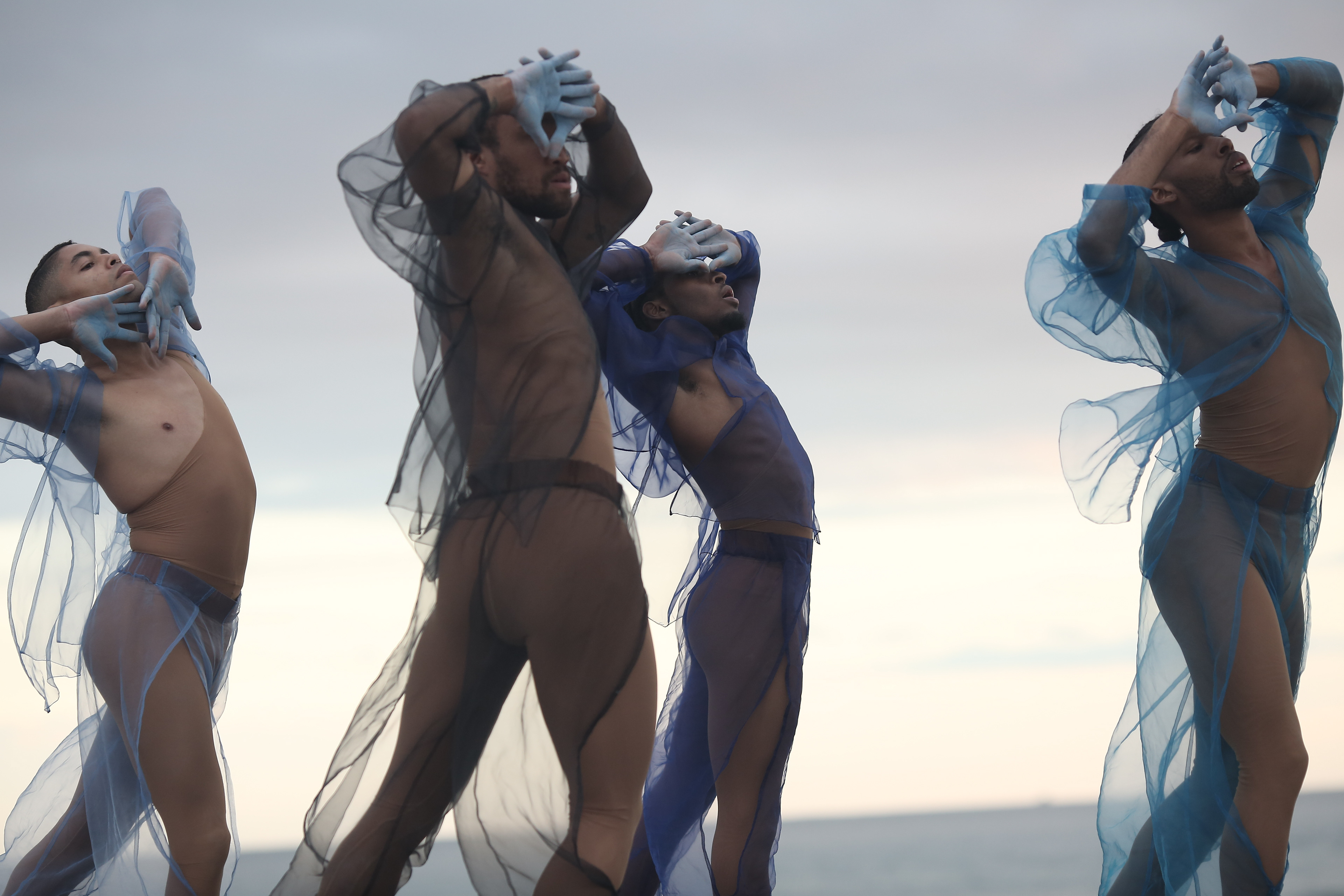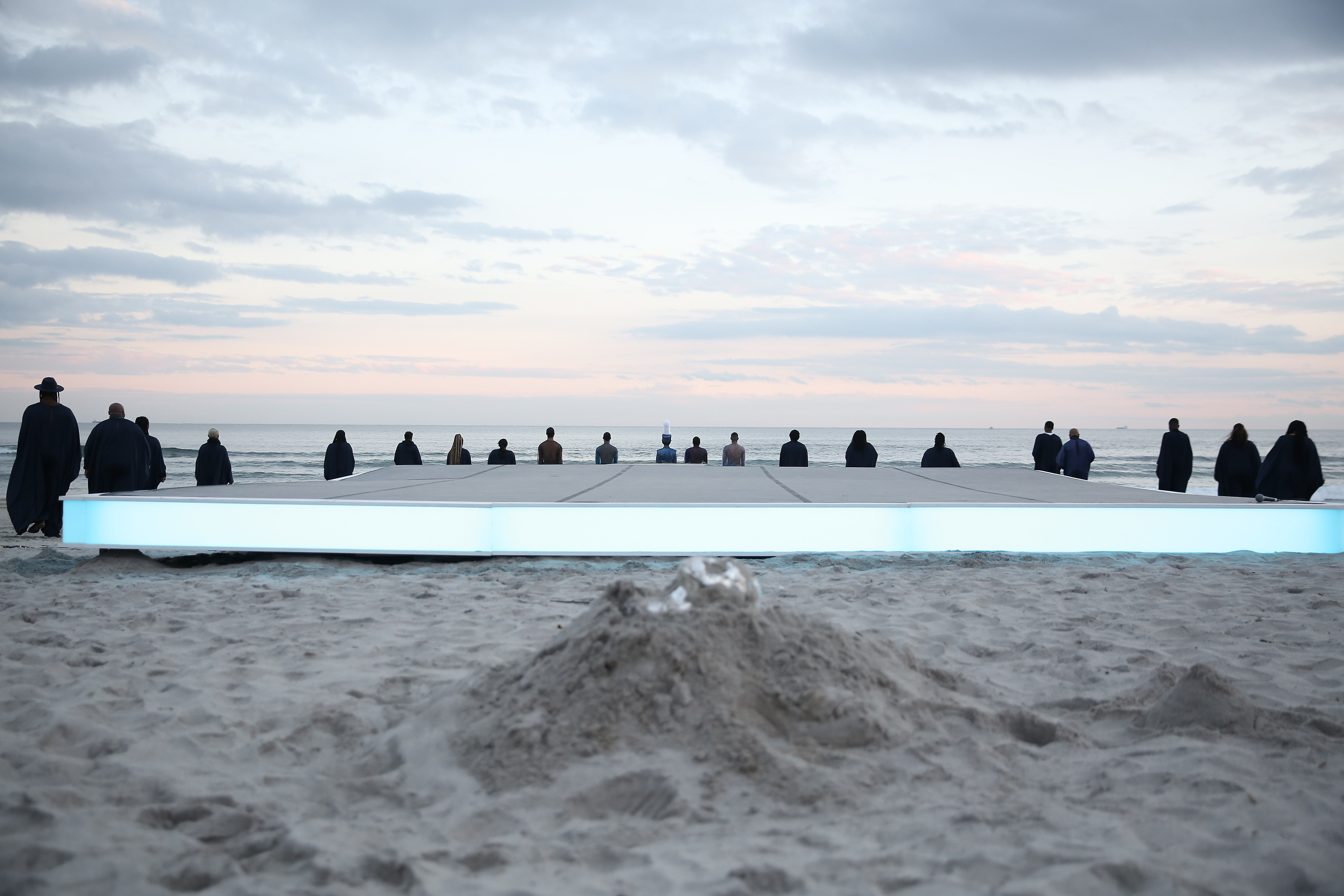 "Philadelphia-born, Pittsburgh-based artist Shikeith will create an experimental opera that tangles history, myth, and biography into an epic story of metamorphoses, using the elemental nature of the beach––the ocean, the ebb and flow of the tide, and the never-ending sand––to explore transformation in all its forms. The aesthetic and staging of Shikeith's first major performance is inspired by his artistic contemplations on hauntology, a concept referring to the return or persistence of elements from the past along with African-American histories attached to the color blue. Working with choreographer Morgan Bobrow-Williams, musical artist Rashad McPherson, and costume designer Carlos Soto, as well as an array of performers from inside the New York queer community, the artist will re-contextualize dominant ideas of Black masculinity in a tale of a contemporary man whose identity is, in part, marked by the history of American colonialism."

"Shikeith: notes towards becoming a spill is supported by Toby Devan Lewis, Andy Warhol Foundation for the Visual Arts, the Ford Foundation, the National Endowment for the Arts, and the Heinz Endowment.
Special thanks to the Rockaway Hotel for hosting Shikeith and performers for a 10-day residency leading up the opening of notes towards becoming a spill."





FREEDOM-PHONE-4000

2021 COLUMBIA, MD (TRANSDISCIPLINARY ART INSTALLATION)
ROLE:

CHOREOGRAPHY

, DIRECTION, CONCEPT, INSTALLATION DESIGN, PERFORMANCE, MUSIC, FILM, GRAPHIC DESIGN

︎︎︎FULL FILM

︎︎︎INSTALLATION TRAILER

︎︎︎

MDAIR 2O21 INTERVIEW



Commissioned as a part of the 2021 Merriweather District Artist in Residence Exhibition, HUEPHORIA
An interactive, transdisciplinary art installation involving live performance, video, sound, and sculptural elements. It looks at the relationships between self determination, dreaming, technology, time, and space, and explores the individual and collective agency we have to manifest in micro levels that evolve into macro manifestations. Pulling from research about non-linear causality, the installation embodies and incorporates the multidirectional and multidimensional effects our actions have. Morgan activated the space throughout the exhibition period, using movement, and vocal expression.

DOP: Adrian Muys
Dramaturgy: Khalil McCullen




THE RUNNING PROJECT:
BLACK GLADIATOR
2021 BROOKLYN, NY (PERFORMANCE ART INSTALLATION)
ROLE:

CHOREOGRAPHY

, DIRECTION, CONCEPT, INSTALLATION DESIGN AND BUILD, PERFORMANCE, MUSIC, GRAPHIC DESIGN




Explores the dichotomy of freely living and expressing oneself while being objectified by white capitalistic systems of oppression.It will look at the black experience as gladiatorism, the violent exploitation of the black body, and experience for the entertainment and profit of society.





STANKONIA3000
2020 Kassel, Germany (FILM)
ROLE:
CHOREOGRAPHY
, DIRECTION, CONCEPT, PERFORMANCE, SCORE, FILM
Directed, edited, soundtracked, and performed by Morgan Bobrow-Williams, STANKONIA3000 is an 11min. freedom manifesto dedicated to the Black people of America and rooted in the power of the imagination. A reflection on the concept of time and space in relation to the body —
How is the past and future woven into the present?
How does the action of dreaming manifest into the creation of the future now?
How does existing in a state of freedom as a black person act as embodied resistance?
Direction and Performance: Morgan Bobrow-Williams
DoP: Christoph Neugebauer
Assistant Camera: Hannah Kretzschmar
Editing: Morgan Bobrow-Williams
Soundtrack: Morgan Bobrow-Williams
Costume: Angela Roudaut & Morgan Bobrow-Williams
Assistants: Chihiro Araki & Olga Stetsyuk
STANKONIA3000 originally premiered for Staatstheater Kassel Choreografische Werkstatt 2020.
Special Thanks to Förderverein des Staatstheater Kassel, Forstverwaltung Kassel/Summerstein Feuerwehr Kassel for financial and operational support
PARALLAX BODIES

2019 KASSEL, GERMANY (FILM AND INSTALLATION)

Director: Nicolas Wefers
Choreography & Costume: Morgan Bobrow-Williams
Camera & Lighting: Jan Heise & Christoph Neugebauer
Make Up: Julia Gens
Cut: Christoph Neugebauer & Nicolas Wefers
Sound: Josha Bauer & Holger Jenss
HYPHEN

2019 KASSEL GERMANY (PERFORMANCE)
Performed by ALISON ADNET
as a part of FUTURE NOTHING // CHOREOGRAFISCHE WERKSTAAT 2019
TIF // STAATSTHEATER KASSEL

CHOREOGRAPHY/MOVEMENT DIRETION // Morgan Bobrow-Williams

VIDEOGRAPHER // DAVID WORM
VIDEO EDITOR // MORGAN BOBROW-WILLIAMS
COSTUME DESIGN // ANGELA ROUDAUT & MORGAN BOBROW-WILLIAMS
MUSIC - REMIX OF 200 PRESS BY JAMES BLAKE
UNDER THE SKIN
2017 CENTRAL PARK, NY

A public performance piece that took place in East Meadow, Central Park, NYC.
UNDER THE SKIN unapologetically displayed to the public eye a reflection of the implications of being black in America.
Through movement, the work explored the physicalization of racism
— Embodying the physical and psychological trauma the oppressed and the eoppressor edures.

The piece aimed to recognize our countries deep rooted violence and injustice while simultaniously providing a vision of the future.
One in which all running forward, together, and with love and empathy.

* I collaborated with the following moving artists to create this work:
Anna Pinault, Cailin Lorence, Cassidy Fulmer, Christina Marushok, Dani Cole, Haley Fox, Jacob Melvin, Jake Speakman, Jordan Lang, Logan Brinkerhoff, Mika Greene, Natasha Wells, Nicole Davis, Ragin Smith, Richard Sayama, Sammi Fujita, Shannon Walsh, Solange Camacho, Stefanie Noll, Yiannis Logothetis.